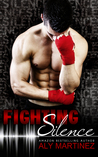 Fighting Silence by Aly Martinez
It's LIVE: http://amzn.to/1DGRfRc

4.5 Fighting Stars
Fighting Silence is my first time reading anything from Aly Martinez and I was with out a doubt impressed. This isn't just the normal love story involving a sexy fighter. Fighting Silence is about over coming obstacles and the challenges life delivers. It's a story of fantasy and reality and knowing the difference between them and willingness to fight for what you truly deserve.
At thirteen years old, Til Page and Eliza Reynolds find themselves hiding out in an old abandoned apartment that's not far from where they both live. The day they meet is the day Til learns that he's slowly losing his hearing and one day will be completely def. Til crawled through the window of that old apartment looking for somewhere to be alone, a place to escape his problems, but instead he finds Eliza, and an unlikely friendship is born.
Both Eliza and Til come from worthless parents. Eliza's plan has always been to leave for college and escape her past the second she can, but Til has two younger brothers and leaving them will come at a cost. After five years of friendship saying good-bye to their apartment and growing up is harder than either of them thought possible. They might only admit to being friends, but they both know it's more than that, and it has been for a long time, maybe even from day one. On what was supposed to be his last night with Eliza, Til gives in to his every desire. He might not be the last man she ever loves, but he was the first and he wants her to always keep the memory of him in her heart.
Til works multiple jobs to keep his brother's safe and feed because it's clear no one else worries about them. He didn't even graduate high school so college isn't even a thought for him. The path his life is taking is very different from the one waiting for Eliza, and while she still lives in the same town he can't and won't hold her back from the future she deserves. But when live becomes too much she's the only person he wants to turn to.
I knew what she wanted, because it was the exact same thing I'd have killed to have with her. But there are a few things in life that trump the fear of losing your sole mate. I wouldn't allow the desire to consume her to be one of them.
It's been months since Eliza has seen Til and she was only starting to put her heart back together when he shows up at her door. Eliza has never understood why Til believes she's better than him, but if he's once again offering his friendship then she's willing to accept that because having even just a little bit of Til is better than having nothing at all.
At the end of their senior year of high school, Til found a boxing gym called On The Ropes and he didn't know it at the time, but this place changes his whole life. The owner see's the strength in Til, the hard worker, the provider, the real man that's hiding inside the boy and he helps Til fight some of the toughest battles he'll ever face, including believing in himself.

Til has struggled with the difference between fantasy and reality from the day he met Eliza. In his fantasy they will always be together, she'll always be his and only his, but in his reality he'll never be good enough. Not for the beautiful woman with a heart of gold, not for the woman that loves him and loves his brothers, not for the only person he's ever called a friend. He needs her in his life. He can't live without her and he won't risk what they have on a relationship that could ruin everything between them. But the real reality is they're growing up, and one day, possibly very soon Eliza will have a man in her life, a man that's going to stick around and whether Til likes it or not, their relationship is going to change and watching her love someone else is going to shatter his fantasy and leave him with a reality he won't be able to live with.
Picturing a life that doesn't include Eliza is one Til can't live with. He's been fighting this whole life just to survive, but now he's actually fighting to live. He's fighting for his career, for his brother's future, for a life with Eliza and now for the only thing he's never had any control over…the silence that's been waiting for him.
Typically I don't care for stories when the two main characters spend time apart, especially when they have other relationships while they aren't together, but the author does an a beautiful job of keeping the focus on Eliza and Til. Their other relationships are mentioned but never with any real detail.
What made me really love this book was Til and Eliza. For me it's rare to like both the hero and heroine but in Fighting Silence I absolutely loved both of them. Til is amazing character who was truly lacking a good role model. He was never taught to believe in his self worth but he could clearly see it in others and was truly willing to sacrifice his own happiness for the three people he loved. The only family Eliza has is Til and his two brothers. She loves all three of them and would put herself in harms way in order to protect them and even knowing that, she still stands up for herself and demands more from Til. She doesn't want to lose them, but her heart isn't willing to except Til as only a friend. She needs more.

There's so much more to Fighting Silence then just Til and Eliza's relationship. Both of Til's brother's have huge rolls in the story (and I'm guessing they might be the hero's in the next two books?) and there's so much more with Til's time at On the Ropes. And then of course there's Til dealing with his hear lost.
I can honestly say I thought this story was beautiful and I'm very glad I read it, and I will without a doubt go back and check out more of Aly Martinez's stories and I can't wait to read the next book in this series.
*ARC kindly provided by TRSOR in exchange for an honest review*